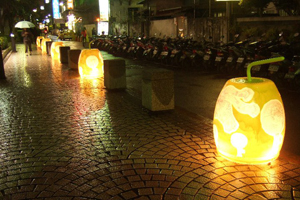 The Taipei Lantern Festival-Public Art of Taipei has been organized by the Department of Cultural Affairs, Taipei City Government in harmony with the Taipei Lantern Festival, hosted by Department of Civil Affairs, Taipei City Government, since 2008. The event consists principally of displays of giant theme lanterns and projection performances in specific sites around the city.
In line with the idea of aesthetic lifestyles for Taipei citizens, this year's edition was developed under the theme of 'light up the city' — from right within the community — to revive the festival's cultural connotations and its social function as they were back in ancient times.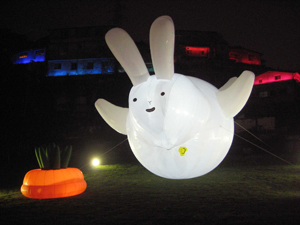 The organizers hoped that by introducing art into public areas, the festival would help to fulfill lifestyle aesthetics and cultivate an identity with local culture. At the same time it was hoped that the attachment between people, space and tradition would be strengthened by allowing visitors to participate in a rich assortment of activities.
Treasure Hill Artist Village and the Museum of Contemporary Art (MOCA), the curators for the festival, presented a wide variety of events at Treasure Hill Artist Village; the Guling Street and Nanhai Road area; the blocks between Yongkang Street, Chingtian Street and Longchuan Street; MOCA; the Zhongshan N. Road section; the linear park near Zhongshan MRT Station; Red House in Ximending; and Zhishan Cultural and Ecological Garden.